Vote YES in the protected action ballot
The ballot of AEU members to endorse industrial action is now open. It's time for you and every member to raise their voice. Acting together, we can demand working conditions and salaries which value our work.
 
Voting YES to endorse industrial action is necessary because the Andrews government isn't respecting teachers, ES, or principals. Premier Daniel Andrews and Minister James Merlino have not done enough to address excessive workloads or offer school staff salaries that reflect the important work we do.
 
Voting YES to endorse industrial action means we can put more pressure on the Andrews government – they won't budge unless we stand together and shift them. Endorsing industrial action sends a clear and direct message that we will campaign to have our key issues resolved.
 
Voting YES is your chance to raise your voice with teachers, principals, and ES in every school across the state. Together, we can tell Premier Andrews and Minister Merlino that they must act.
All schools sector members have received an email with instructions for the vote. Please check your inbox for details. 
Show your support on social media
We won't be able to get approval to take action unless the majority of members participate in the ballot. Under the Fair Work Act, to be able to take protected industrial action, 50 per cent of members must vote in the ballot, and a majority of those who vote must vote to endorse industrial action.
Download these digital resources and share them on social media to encourage your workmates to vote YES. Please note, the video conferencing background can be used for staff meetings or sub-branch meetings, but should not be used when teaching online.
Download digital resources (zip file.)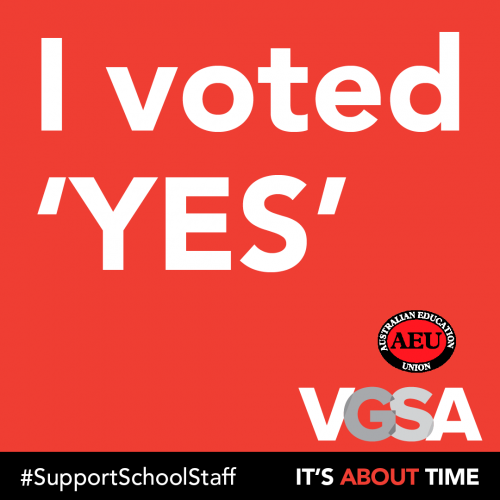 ---
It's about time to value school support staff!
Put simply, without the important work of Education Support (ES) staff our public schools would not function properly. But right now, they are undervalued and underpaid by the state government.
We're inviting ES members to submit a letter to tell Minister James Merlino explaining why he needs to deliver a fair and resonable pay rise. 
And all supporters can help by signing our Megaphone petition.
Learn about the VGSA in AEU News
Catch up on our articles about the negotiations process, and our approach to the big issues such as excessive workload. You can also read about how we're supporting CRTs, principal class members, ES staff and women members.
(⚑ Some of these articles are member-only, so log in with your AEU credentials to read.)
---
FAQs
What is the VGSA (Victorian Government Schools Agreement?)
If you work as a teacher, principal or education support staff member in a public school, the Victorian Government Schools Agreement (VGSA) is the document that sets out your pay and conditions. We are negotiating a new Schools Agreement with your employer, the Department of Education and Training.
      
What are we asking for in the new agreement?
The AEU is arguing for improvements outlined in the union's Log of Claims , which was developed democratically by members.
How does the negotiations process work?
This article outlines how we get from A to B when advocating for better pay and conditions for members.
How can I hear an update on how the negotiations are going?
We've been sharing regular updates about the process via email, and will continue to do this. However the rules around 'negotiating in good faith' limit what we can put in writing. For a verbal rundown, attend your local regional meeting. 
---
Member-only emails and Log of Claims
Sorry, this content is for members only.
OR