ESP Day was celebrated on 16 May 2020.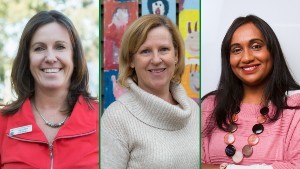 AEU Victoria joined AEU branches around Australia and Education International (EI), the voice of teachers and ES across the globe, to mark ESP Day on 16 May 2020. The day's celebrations recognised the extraordinary contribution ES staff make to our schools and our union. 
Schools across the country celebrated the contribution that ES staff made to their school team and the significant union wins over the last Agreement.
It is important that ES members are recognised all year round and sub-branches encourage their involvement and ensure their rights and issues are given due recognition. 
The AEU encourages sub-branches to elect an ES rep to the sub branch executive. Having an ES rep means there is a strong clear ES voice in AEU sub-branches.
ESP Day replaced National Support Staff Week as our annual celebration of ES staff.
CLICK HERE TO read the history of esp day 
Learn about ES entitlements
We're shining a spotlight on ES entitlements. Knowing your entitlements is the first step to protecting your rights at work.
Click the image to go to the Facebook post for that entitlement. 
Focus on ES activists
Be inspired by the stories of some of our wonderful ES activists. There are some many ways ES staff can be involved in their union and make a real positive change to their working environment, their school and our education system.
Each of our ES activists has done something unique or different, big or small, to make a difference for themselves and many other ES staff. 
CLICk HERE TO read our about our es activists
Focus on ES reps 
We want ES members to play an active role in their sub-branch. The best way to do this is to promote the vital work our current ES reps do and inspire more ES members to consider nominating for the ES reps position. If you want to be inspired, just read some of our ES profiles.
Union wins for ES
The AEU fought hard for ES staff in the latest Schools Agreement (VGSA2017), which has seen over seven thousand ES members translated from insecure work to ongoing employment. Did you celebrate these wins and have conversations around: 
how many staff at your school were translated?
what difference has secure work made to their lives?
when will those who didn't translate be eligible?
why joining your union makes these wins possible? 
The bigger we are, the more we can do. It's vital that we help non-members make the connection between signing up and secure work. 
The rules around ES work were broken – and we changed them!
One good news story can sometimes lead to another. Business manager Julie Irvine had been requesting a range review for seven years, but it was reading the AEU News that finally convinced her she had a case. Read AEU Journalist, Myke Bartlett's AEU News, Term 2, 2018 article here. 
We are losing count of the good news stories that have come from Julie's story!