Improving learning in the Education State
Mary Jean Gallagher
I have had the great privilege of visiting a number of schools across Victoria as I work with the Victorian Department of Education and Training as a "critical friend" to the system in its implementation of the Education State reforms. I have been in this role for a few visits over the past year and a half, meeting with departmental leaders and the teams responsible for the programs and support processes, visiting schools and regional staff and speaking at a number of conferences and learning days. And I am so impressed with what I see here, everywhere I go I meet dedicated educators and public servants who want Victoria's students to be the best they can be. 
Education systems world-wide however, face a common problem – we need to prepare our students for success in a world that is changing incredibly quickly, but school systems are often slow and difficult to change. In fact, very few education reforms around the world actually result in the changes they aspire to produce. Teachers try to improve their classroom practice, principals lead their schools in efforts to improve, and districts and governments set goals and produce supports, but identifiable improvements in student learning across whole systems are elusive. For this reason, departments of education world-wide look to learn from other jurisdictions which have been successful in improving student learning.
Ontario, Canada
I was Assistant Deputy Minister and Chief Student Achievement Officer of the Ontario Ministry of Education for seven years up until 2015 and believe Ontario provides a good case study for Victoria. Ontario and Victoria have so much in common: Australia and Canada have similar cultures, we are members of the Commonwealth and share some of our history and values.
 In Canada, each province is responsible for its own elementary and secondary school systems. Ontario is not geographically the biggest province, but it is the largest by population (40 per cent of Canada's population), and it is also the most diverse (up to 60 per cent of Canada's new immigrants come to Ontario each year and 27 per cent of our students start school speaking neither English nor French). Traditionally Ontario has enjoyed having one of Canada's strongest school systems. Like Victoria, we have well qualified and caring staff who work to do their best for our students.
In the nineties however, Ontario's schools were struggling. Government funding for education had decreased, early school leaving rates were rising and educators were increasingly frustrated, many retiring as soon as they could. Province-wide tests of the degree to which our grade 3 and 6 students had learned the skills required in our curriculum in reading, writing and maths were at best flat-lined, and these skills are the foundation of later success, in academics, in critical thinking and problem solving and in developing a sense of confidence. And our public were losing confidence in our schools.
In 2003 a new government was elected, with a new Premier who declared himself to be "the Education Premier". They invested in our school system and set goals for improvement. And they repeatedly said that they believed our teachers, principals and district leaders could and would improve student learning in measurable ways. They paid attention to international research and asked the Ministry and schools to work in partnership to learn how to better help our students to succeed. They established a division within the Ministry of Education called the Student Achievement Division (with a Literacy and Numeracy Secretariat responsible for improvement in grades Kindergarten to 6, and a Student Success unit responsible for grades 7 to 12) to lead the changes. And they were ready to support the school system with the processes and professional learning required to produce real improvement in teaching and learning. 
The goals set for reform in the first ten years were to "raise the bar and narrow the gaps" in literacy and numeracy in elementary schools and to improve the graduation rate in secondary schools. Our curriculum expectations in these areas included higher order thinking, critical thinking and problem solving, and it was understood that having students succeed in these critical areas would result in improved learning and thinking in many other dimensions. The charts below show our results.
Mobilizing Data and Effective Practices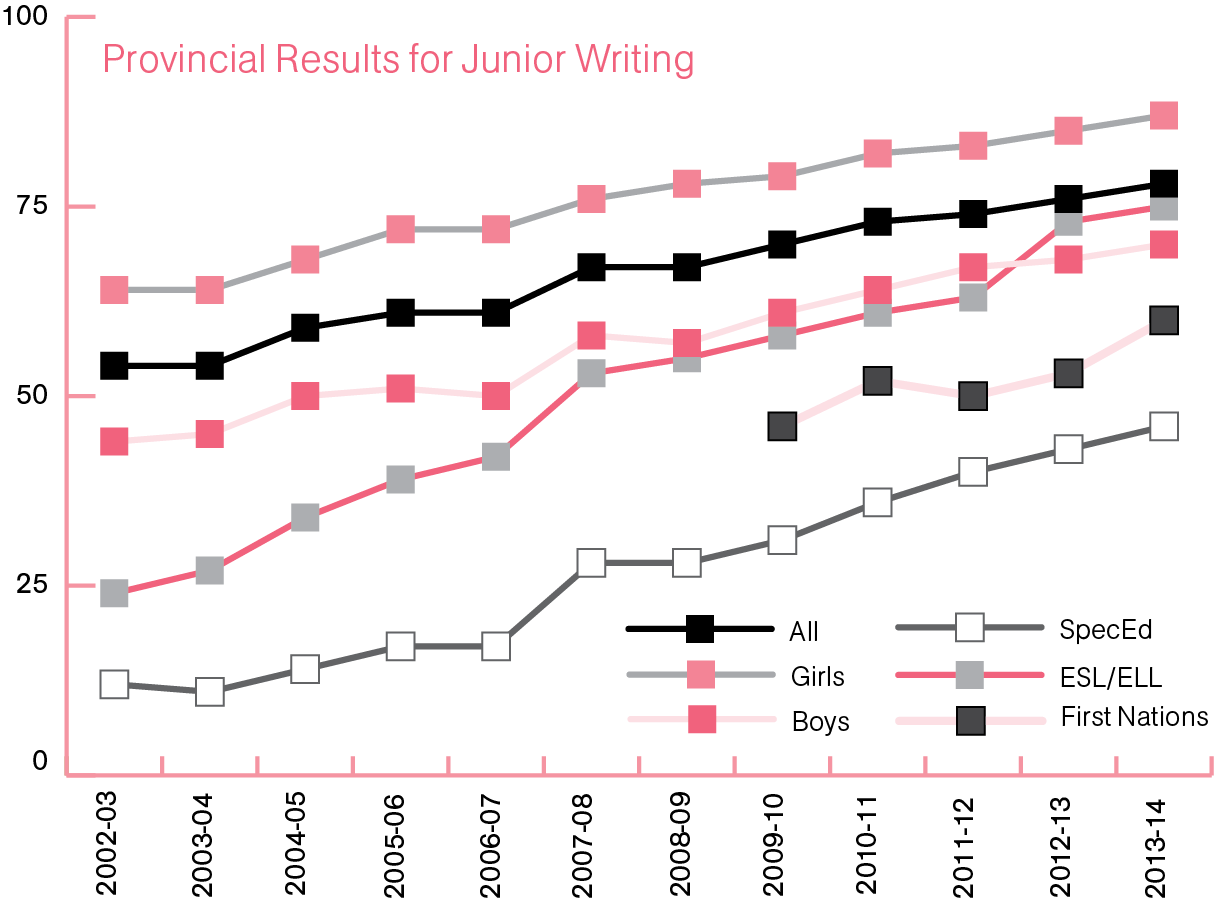 Chart A – improvement in results in grade 6 writing over the past several years
Provincial Graduation Rate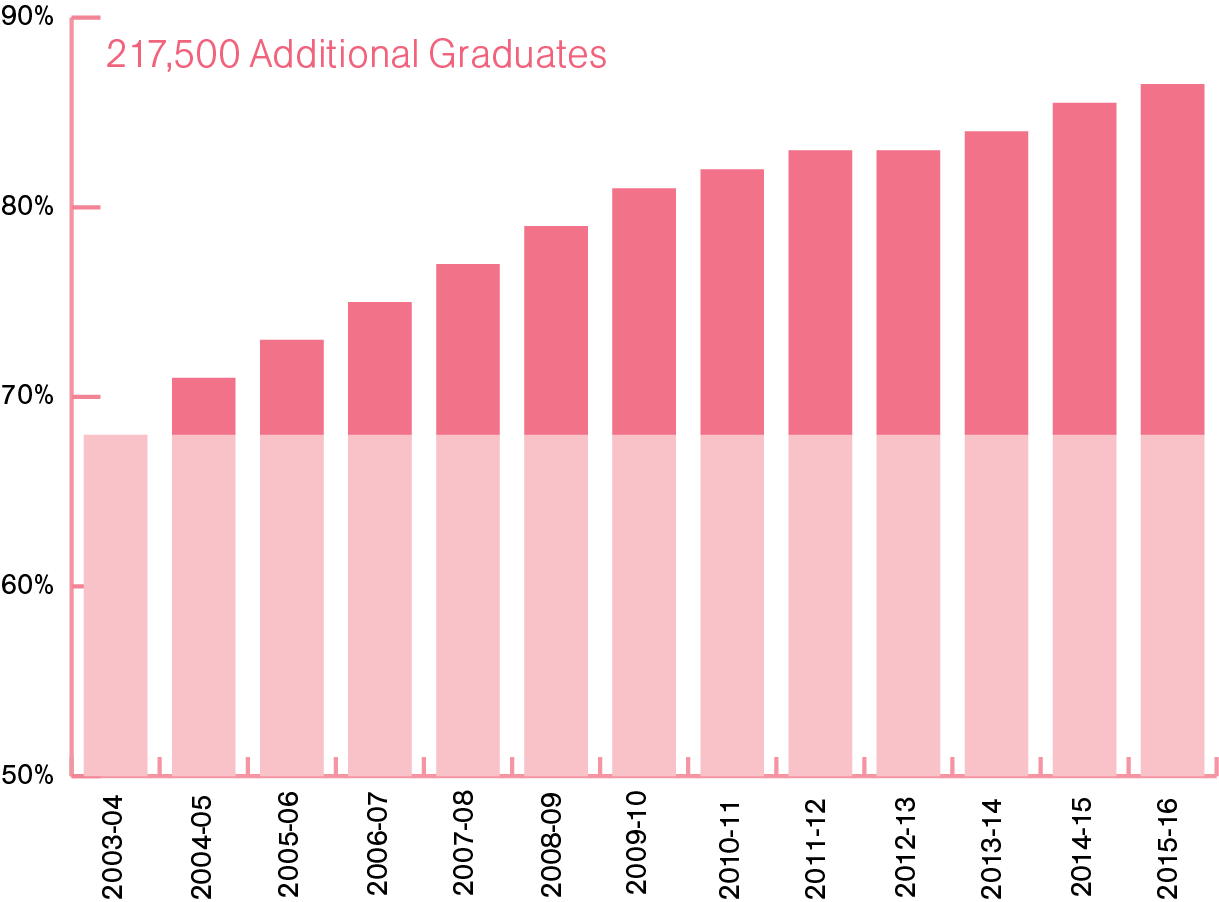 Chart B – improvement in % of students graduating from high school on time over past several years.
As our teachers and principals increased their efficacy, we became the leading jurisdiction in Canada in literacy, second to Quebec in mathematics and second to Alberta in science - good results considering that Canada is cited by the OECD as an education system that is both excellent and equitable (characterized by high achievement and reduced impact of poverty on student learning). More importantly however, we gave our students a better future. We now have over 217,500 young people with a high school graduation diploma who would not have graduated had our schools not learned how to be better, and the proportion of our students moving on to apprenticeships, college and university has increased as well. Ontario is still working to improve its schools, and the goals now include excellence, equity, well-being (for students and staff) and public confidence. Our definition of excellence includes the areas Michael Fullan refers to as Deep Learning: creativity, critical thinking, communication, character, citizenship and collaboration.
Achieving sustainable improvement in student learning
There are a number of lessons about long term sustainable improvement in a school system that emerge from Ontario's experience. 
The first observation is that too often we underestimate the amount of new learning that is required at every level of the system. Departments of Education need to learn how to partner more effectively with schools, providing a careful balance of both pressure and support to mobilize the changes across hundreds of schools. Regional staff must learn to be more effective change leaders. Principals need to improve their ability to be instructional leaders, leading and co-learning with their teaching teams. And teachers need to hone their formative assessment skills, understanding of content and curriculum, and range of pedagogy in order to meet the needs of all of their students.
The entire system must place student learning and growth at the centre of their work. As the system improves, teachers increasingly observe the needs of individuals and small groupings of students. They monitor the impact of their teaching on individual students in addition to whole classes. Professional conversations occur around the specifics of how to implement additional high impact teaching strategies, how to narrow the gap for students in vulnerable circumstances and how to enhance learning for the students already achieving well. 
Principals focus the work of the school on improving learning and in building the collaborative structures and culture to engage everyone in taking responsibility for improvement. Department staff, both at the regional and central office levels, define their roles in terms of providing support for positive change to occur in classrooms and in reducing distractions from this core work. The system develops a deeper understanding of what works and what doesn't and there is increasing precision (but not prescription) in the goals and targets established and in the work groups do together. In fact, learning by adults and children, at every level, is the work of the system.
Good system reform is a careful combination of top down and bottom up change. Government has the right and responsibility to articulate the goals of learning (curriculum and standards of achievement), the goals for change across the system and the ways in which these changes can be monitored. Departments of Education translate this into processes which mobilize and support implementation, as well as gather data and evidence to inform the next steps. But ultimately, it is teachers who make the changes that matter in the work they and students do together.
 System improvement is a continuous cycle of learning and improving together. The department needs to know and respond to the current outcomes and learning needs of every level of the system, and teachers and principals work together to not only learn new strategies for improving student success, but also to take action in classrooms to give effect to these strategies and to honestly assess what is needed to make improvement a reality. Student results and assessments provide the feedback needed for further cycles of improvement.
As this top down/bottom up change unfolds, perhaps the most important leadership role is what Fullan has identified as leadership from the middle – the regional leaders and principals who work with central office staff and teachers, and each other. This critical role is the glue that holds the change together. It takes system-wide initiatives and translates them into reality on the ground, choosing those programs that match the culture and needs of the school and then monitoring their implementation.  The process involves a balance of pressure and support. This is needed in order to activate the sort of change which impacts student learning in observable and measurable ways.
As the system learns to improve, greater consistency in practice across classrooms and schools will emerge – consistency but not conformity, and definitely not a compliance mindset or a limit to professional creativity and innovation. Principals and teachers will be actively pursuing solutions and a sense of what works for their students, and when they find promising practices they are shared so that others can learn and adapt them to their classrooms. This is why collaboration and the use of professional learning communities are so necessary for success. 
Professional learning community discussions are most effective when they are about strategies which have a direct causal relationship to improved learning for students and are characterized by an "open to learning" mindset, one in which all participants are curious together about what works for improvement and what does not. Discussions of this type work when people speak up about both good and bad approaches, insisting on evidence to support ideas and approaches.
Schools that are working successfully to improve learning develop a culture which "de-privatizes" teaching, classroom doors are open and staff move in and out of each other's classrooms, observing student work and acting as "critical friends" to each other. New teachers are mentored and supported, common problems of practice are explored and discussed and acted upon. And staff hold each other accountable for trying the new approaches they agreed to use, and for questioning together what works better.
In systems successfully improving student learning, there is a sense of urgency to implement new learning and to see improved outcomes in student learning. As a system, improved outcomes over hundreds of schools takes time, but in individual schools, as change takes root and teachers observe changes in student learning, there should be evidence that approaches are working. Do teacher assessments indicate that students have improved in the specific areas teachers were targeting with a new strategy? Are students better able to discuss what they are learning and why? Are teachers better able to describe what they are teaching and why they chose a particular teaching strategy? People are held accountable for improvement, not in a punitive way, but in a way that allows and expects regional staff to provide additional support to schools that are struggling to see results. Schools that are improving assist those which are not, and teachers who are seeing results will move to assist their colleagues who are struggling. 
All of this speaks to the requirement that a department of education must provide the infrastructure and support which make change not only possible, but probable and eventually inevitable. Ultimately this is how the change becomes a system reform and our visions for our students and their brighter futures become reality. The culture and behaviours identified above do not instantly take place, they are built up over several years of improvement and several years of constantly improving professionalism at every level of the system. The outcome is a system that prepares all students to become more effective lifetime learners – giving them a path to excellence in both foundational areas and in higher levels of learning in their fields of interest and specialization.
Victoria's improvement journey
Victoria is moving well down this pathway of change. The Education State's four areas for improvement draw attention to and provide a focus on the ways in which schools can make a difference for their students. The Department has learned from global research and the work of a number of systems around the world and has developed a solid "change infrastructure". The components of change in Victoria represent some of the best documents and processes in the world: FISO, annual improvement planning, the High Impact Teaching Strategies, the Literacy Strategy, Leadership Guides and a number of other documents. They are integral parts of an overall plan for improvement.  When this is implemented at the school level it becomes a way of improving teaching and learning through collaboration.
The leadership training provided by the Bastow Institute is an amazing resource for Victoria's schools, helping leaders and leadership teams step more effectively into instructional leadership. Specific projects like Professional Learning Community engagements and Communities of Practice are providing opportunities for collaborative learning within and across schools.
The additional investments in enhancing the capacity of regional offices to support instructional improvement both through programs and supports to principals and schools, and the growing efficacy of networks of principals and leadership teams, are important steps on the road to success. The system is gaining in its ability to support schools in a differentiated approach, delivering more help through executive principals and lead teachers to schools facing challenges to their progress and asking successful schools to partner with others to learn their way forward together.
The most recent budget announcements add the critical areas of enhanced early learning and strengthened career pathways to the system. One principal leader told me that the budget announcements brought all the pieces of improvement to the table and helped her see the whole picture.
There are risks and tensions within these changes. We need greater precision in our work, but not lock step prescription. We need to pay attention to assessments of student progress (including standards-based common assessments), to drive improvements forward, but this should be done without narrowing goals or pathways to excellence for students. We need to stay the course in accelerating learning for our most vulnerable students as there is evidence even in the first few years that the gap is narrowing for these young people. And we need to pay attention to stretching our students at the top to achieve more, to pursue personal excellence and explore where they could go and who they could become as a result. 
I believe that Victoria is off to a strong start and the various pieces of the improvement puzzle are coming together. No matter how good a teacher or a school may be, improvement is both possible and necessary. For teachers, improvement best occurs through a learning and evaluation cycle - engaging in professional learning with colleagues, taking action in the classroom to implement the new learning and then evaluating its success by measuring results.  Our students depend on us to be the best that we can be, so they can become the best that they can be.
---
Dr Mary Jean Gallagher is the former Assistant Deputy Minister and Chief Student Achievement Officer of the Ontario Ministry of Education. During her tenure, literacy and numeracy skills and graduation rates of Ontario elementary and secondary school students improved dramatically. She is internationally renowned and is currently in demand as an advisor, consultant and speaker. She is presently acting as a 'critical friend' to the Victorian Department of Education and Training.
This article appears in Professional Voice 12.2 The improvement factor.