Read about the important work our ES Reps are doing.
Having an ES rep means there is a strong clear ES voice in your school and on the sub-branch executive. Our aim is to have an ES rep in every school.  Why is it important to have an ES rep on the sub branch? Why would an ES take up this role? Do the they enjoy it? What difference do they make? I hear you asking – well  we have been asking our ES reps just that! 
2018 profiles
Ali Dullard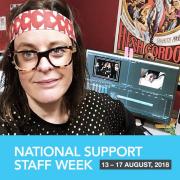 As we sign off for NSS week, meet Ali. Ali works as tech support in Footscray City's College TAFE media program. And what does 'tech support' mean, exactly?
"I do a bit of everything," Ali says. "Today, I designed some new enrolment forms, updated the website plugins, wrote some purchase orders, worked on an ad campaign, updated our social media, took photos of a film shoot some TAFE students were doing, started building a new website and, ah, did the dishes."
Thankfully, she's familiar with this breakneck pace from her days in the film and TV industry, working on big US productions being shot here. Back then, she was with the MEAA, but she signed up with the AEU as soon as she swapped industries. She's been a rep for the past 15 months or so, having taken on the position to give ES staff a voice within the college.
"It's not intentional, but we can be forgotten or left out of consultation," Ali says. "I like being able to help people out and to know what's going on. Whether that's someone's going to the pub on Friday or knowing there are new teachers coming, it helps you feel a bit more connected."
Her role is ever more important as the college faces being merged into the new Footscray learning precinct – a decision that has generated much uncertainty.
"We were promised a meeting by the department in March, which still hasn't happened. It's an incredibly important time to be in the union. You want to be protected."
Coming from a family of proud unionists, Ali has never been in any doubt about the difference it makes having a union on your side.
"You're not just in a union for yourself. You need numbers. It's about fair rights for everybody, not just people in your immediate circle. People you've never met deserve fair conditions too. If you have good conditions at your workplace, it's highly likely unions had something to do with that."
 
***
Trisha Bennett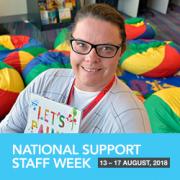 Give a (quiet) shout out to Trisha. She's been working at Aitken Creek Primary School for five years now, running the reading intervention program, and recently took on an extra role in her new favourite place – the school library.
"I love seeing the kids come in and find new books and things that they're wanting to learn about," Trisha says. "You create a bond with particular children when you're working with them, whether it's in the classroom, the library or running those small intervention groups."
Creating these sort of bonds is a large part of what Trisha enjoys about being in the AEU. As ES rep at her school, she often attends regional meetings to keep up-to-date with the latest developments – and to catch up with a few familiar faces.
"I always say to people that it's a really good opportunity to talk to people who have the same experiences or difficulties as you. You can share your celebrations with people who actually understand what you're talking about. It's a sense of belonging."
When convincing ES staff to sign up, she also tends to mention the professional development opportunities membership brings.
"What I've enjoyed most was going to the AEU reps conference last year. I met a lot of powerful people who eat and breathe the union. Our new agreement only came through because of the union, because they forced the department to give us better conditions."
***
Kanchanie Jayawardena
Meet Kanchi. She's been an education support officer (AKA integration aide) at Lakeview College since 2015. She arrived in Australia as a skilled migrant from Sri Lanka five years earlier and, after taking on some casual work, quickly came to love the senior school setting. Her current position sees her working with students on the autism spectrum or with an intellectual disability, some of whom have significant behavioural issues. As demanding as that can be, Kanchi says she likes the close bond that forms between aides and students, given the support that aides provide inside and outside of the classroom.
She was grateful herself for the support she received early on from a teacher who was a strong union member.
"I saw how he worked with the other teachers and ES members and all the other areas of the school. I joined the union because I saw that I had a chance to represent the ES cluster. And it's a great opportunity to get to know people. It's a team working environment."
As the ES rep on the consultative committee, she's appreciated being able to bring ES issues to the discussion table. She says she has a clear idea where ES member priorities currently lie.
"In terms of integration aides, I think pay is one of the crucial things. These are staff who go into the classroom and work with the most challenging kids. It's not just physically but also emotionally draining. Knowing the work they do, the commitment they put in, I think it would be rewarding if they could get a bit of a pay rise."
***
Nicole Lowe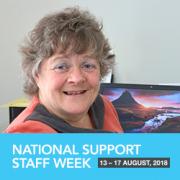 Today's ES rep is Nicole, who has worked in education for an incredible four decades. She says her main motivation has always been her strong sense of social justice and to work for the common good. Although she only became a rep a few years ago, she has always been an active union member, believing that if you going to accept the benefits unions win for their members, you have to give back.
"In most of my school work places, I've been the unofficial go-to person for union advice," Nicole says. "I've signed up new members because I've told them the union can give them advice."
Nicole knows how important it is for ES staff to have a dedicated union rep. For too long, ES staff have felt too insecure in their work to speak out. The new agreement has brought security for thousands of ES workers and, although it is sometimes difficult to speak up, Nicole has always tried to be the voice for staff who feel reluctant to stand up for themselves.
"I've been proud of being able to nudge people to speak up. I've never seen it as rocking the boat. I've always had the support of the union."
***
Mary Gardner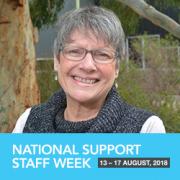 Mary knows firsthand the wide contribution ES staff make to the life of a school. In her time at Bentleigh Secondary College, she's done some scribing, data entry, helped out with Year 10 work experience, worked as a classroom aide and now mans the library circulation desk. Oh, and she's also responsible for OHS and First Aid.
"Some ES staff concentrate on one thing or another, but I'm happy to do whatever within the school," Mary says.
One of her most important roles, of course, is being the school's ES rep. Mary joined the union 10 years ago, but only became a rep last year when she wanted to get more involved. Since being the ES rep, she's been enjoying going to regional meetings and getting an overview of everything that's going on in public education.
She encourages ES staff to put themselves forward as a rep, to ensure ES members have a chance to make themselves heard. "I think being a rep is quite admirable. You need to be the ear that listens to the ES staff who don't want to step up and voice their concerns."
***
Susan Saunders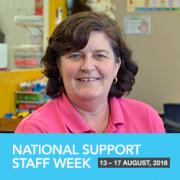 Say hello to Susan. She began her school career outside the front gate as the crossing attendant but has slowly worked her way to the front of the classroom! These days she works as ES support and is doing the STAR program, alongside first aid management, but is also studying to become a teacher.
She's particularly enjoyed the close relationship aides can build with students, which has strengthened since her school started allowing ES staff to attend PLT meetings.
"We connect with the children, because we have that on-on-one experience with them," Susan says.
Susan is all too aware that this close relationship with students can be problematic for ES staff, given they often work with students who might have conditions such as severe autism or behavioural issues. She says it has always been a source of comfort to know she has the backing of the union, which is why she's been active in getting other ES staff members to join.
"Because you can talk as a group and then one person can represent you. It doesn't seem so frightening or scary when you're talking as a group but one person is the representative. It's not as confronting. You're not going to lose your job because of it."
She says teaching staff have been very supportive when ES staff have spoken out about issues – such as ES staff being expected to attend camps without receiving Time in lieu. "We stuck to our guns and the teachers realised that ES are entitled to TIL on camps. Our teachers are terrific, they've always fought for us."
***
Wendy Jones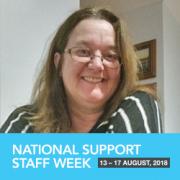 Say hello to Wendy Jones, one of our newest reps! The food tech assistant has worked in schools for the last eight years, across primary and secondary, and has been a proud union member the whole time. As the freshly elected ES rep, she's keen to be the voice for ES staff within her school.
"I think it's very important to have that voice heard," Wendy says. "ES can feel like second class citizens, you don't get as many options. There are a lot of rules that aren't necessarily written down. For instance, yard duty. There's a maximum number of hours a teacher can do, whereas ES staff do yard duty every day recess and lunch because there's nothing written down."
Having had experience as the AEU rep on the school consultative committee, she's looking forward to being able to assist ES members navigate the school environment and helping them deal with any issues that might arise. Looking forward, she hopes to help campaign to improve wage conditions for ES staff.
"We need more pay increments for ES staff. Once you reach my grade, you've got nowhere to go."
***
Diana Blyton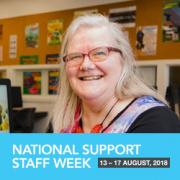 Library technician Diana made the move from universities to Mt Ridley P-12 College six years ago – and has never regretted it.
"At university, the job was mostly troubleshooting with printers and computers, whereas here you're doing more hands on work with the students," Diana says.
Working on a P-12 campus has allowed Diana to build lasting relationships with students as they move from learning to read towards tackling VCE.
"We've got 2,500 students so when I first came here I thought I'd have no chance of knowing them all. But you see the students move through the school and you get to know them all by name."
She's been equally involved with the staff, taking up the role of sub-branch ES rep because she felt ES staff were underrepresented within the school.
"National Support Staff Week is a great focus. We've got a cafe here, so we make sure the ES get a coffee every day and we have a special event. Shining the light on them is always very successful here."
***
Dian Dent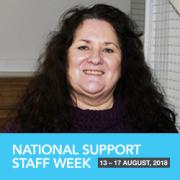 Meet Dian Dent, VETiS coordinator at Nhill College.
Ask Dian to name her proudest moment as a rep and she doesn't talk about her involvement with grand campaigns (although she would love to be out there lobbying local pollies). The moments she treasures are more modest than that.
"Just having ES staff come to me because they now have a better understanding of what the union does feels like a big win to me," Dian says. "Because the ES umbrella is so big and our working conditions are so very different to a teacher's, I think it's really important that there's at least one person in a school who is clued up and makes sure that everything the school is asking ES to do is within the guidelines."
Dian says she herself didn't know exactly what a union was for when she first joined more than a decade ago. She only signed up because her mother-in-law suggested it was a good idea "in case something happened".
When the AEU took over responsibility for ES workers she found herself playing a more active role and eight years ago stood up as a rep in a spur-of-the-moment decision. Since then she's become a branch councillor and has been accepted to take part in both the Anna Stewart Memorial and WILD projects.
"I see it as a way that I can contribute to my school and help my colleagues," Dian says. "Over the years, I've got more and more involved and I've just loved it."
***
2017 profiles
Janet Durbridge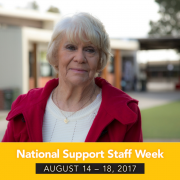 Janet has been an AEU rep for 12 of the 17 years she has worked in education support to develop children's literacy. 
"These kids are our future. I absolutely love working with them."
Janet says one of her favourite memories is the solidarity among AEU members who marched to parliament with a strong message for the Napthine Liberal government.
"There was clapping and cheering and I thought, 'the teachers are clapping us, we are one'. It was wonderful. It was a privilege to be there. I just loved it."
"It's absolutely beneficial to be in the union. Apart from pay rises, you have healthcare, banking, all those extra benefits. Everybody should be in the union. Just go for it."
***
Jan Kelly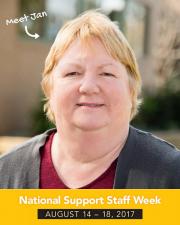 Meet numeracy tutor Jan Kelly. As soon as Jan started working in education, she joined the AEU. She is the ES rep on her sub-branch and the president of her AEU region.
"I'm a firm believer that if you want something to change you've got to be part of that change," she says.
Jan says one of the best parts of being a rep is listening to and championing other workers, as well as achieving wins like getting integration staff onto full-time contracts.
Jan's advice for aspiring reps is to be proactive and persistent. "We are part of the school community. Keep trying for what your members want. In most instances you will achieve a better outcome."
***
Leanne Holt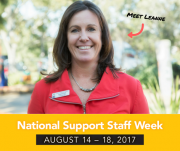 HR manager Leanne Holt loves her job, and says one of her biggest wins was working with her principal to get all integration staff onto ongoing contracts: "It was an amazing moment."
The ES rep and consultative committee member says while much has been achieved, there is still work to be done to ensure all ES staff receive the same benefits as teachers.
"We need to stand tall and stand together and keep fighting for ourselves and each other and be very proud of the work we do."
And her advice to aspiring ES reps? "Just go out there, give it a go, and believe in it."
***
Lee Pattinson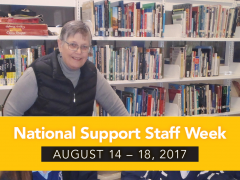 Library technician Lee Pattinson has been an ES rep for over 20 years and says health, support and equality are the top workplace priorities for ES staff.
"ES staff need to take care of their health. If things are getting tough, make sure you have someone to go to, and be on an equal footing with teachers and the leadership team."
Lee says there's been many improvements for ES staff over the years, and her experience as an ES rep has been "fantastic".
"The support the union gives you is brilliant. They are always there for you."
Lee says it's important for ES staff to join the union for support and information, including access to legal advice.
"They know what a rough deal we've had in the past with wages and outcomes. The AEU are very, very supportive and I'd advise anyone to join."
***
Vicki Peterson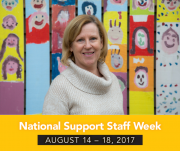 Vicki Peterson started her career as an integration aide in 2003, but now works as an EAL aide supporting children with oral language and English skills. Vicki is also an ES rep and has recently joined branch council.
"I go to my first meeting tomorrow, so that's a bit exciting," she says.
"The roles of ES have changed a lot in recent years – there's a lot more responsibility, but there hasn't always been an equal amount of recognition."
Vicki says the roles and responsibilities of integration aides in particular have changed over the years. Having this formally recognised is one of Vicki's priorities as an ES rep.
"ES are now widely recognised as being very capable," she says. 'That is thanks to the work of ES reps.
"But there are more areas we can improve, and that's why I'm here, I want to be ES forward a little more."
***
Lynette Wills
Lynette Wills has worked as an ES for eleven years and an ES rep for almost six. The integration and special needs coordinator says she is a "strong advocate for her kids."
"The absolute best part of my job is seeing kids grow and find success in whatever shape or form," she says.
Lynette describes herself as a "stickler for fairness" particularly for ES staff and says speaking up is essential.
"Understand that you have to be fair and speak for everybody, not just yourself or your department. You are representing every ES in the school."
"Respect, loyalty and integrity is everything. Always have integrity in yourself and everything you do."
***
Lorraine Fisher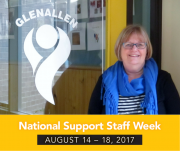 Lorraine Fisher works with children with disability and says it's the most rewarding work of her career.
"I wish I'd been doing this all of my life," she says. 
"Of all the different jobs I've done over the years, this has been my absolute favourite. I love working with the students. They are just amazing and inspire you."
As an ES rep, Lorraine says information sharing is key and she encourages any aspiring ES reps to get involved.
"Go to the meetings at school and your regional meetings. Go to the training the AEU provides.  You learn so much and have a better understanding of how you can influence decisions."
***
Lois Roberts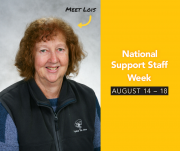 It's the last day of National Support Staff Week, and we're pleased to share the words of someone very special.
Lois Roberts has been working as an ES for almost 29 years – 17 at a specialist school where she has been the ES rep for five years.
She says being an ES rep has given her the opportunity to be informed, assist other staff, and build confidence.
"It empowers you. Just knowing that you are doing the right thing for yourself and the school."
Lois says she's always believed in belonging to a union.
"I think it's so important to be in the union or we might not have been recognised for the hard and diligent work that we do."
***
If you are a ES rep let us know why you took up the role.